Organ
Sales
Organ Rentals
Pipe Organs
Organ Services
New & Used Organ Sales
Northside Music has over 650 new and used keyboard instruments in stock. These instruments are offered for sale or rent, with name brands such as: Galanti, Kawai, Wurlitzer, Kimball, Yamaha, and Allen Organ. Actually, with this number of instruments, we have lots of brands you've never heard of! We have an organ to fit your tastes and our certified service technicians will work with you to get the instrument you need and can use. Please call us, we LOVE to talk organs & keyboards. Unfortunately, with many of our manufacturers, we aren't allowed to list prices online, and some even over the phone. Give us a call and we'll explain, and help you out with your questions.

Organ Rentals
We always say that, "happy homes have pianos (and organs)." If you are unsure of whether or not you want to commit to buying an organ or other keyboard instrument, renting could be a great option for you.
Northside Music not only sells and repairs organs, we also do rentals! We rent organs starting at very low and reasonable monthly rates. Not only can you pay month-by-month, but these payments also cover any general maintenance. There is a separate moving fee for the delivery of your rental. We understand that you may not know exactly what kind of instrument you are looking to rent. The great thing about our employees coming from musical backgrounds and training is that if you call or come in and explain in general what you're interested in, we will help you pick out a rental instrument. There is plenty of variety in rental options so you will never feel limited. Please feel free to contact us for more details or just stop in and see us!
Pipe Organs
Organ Services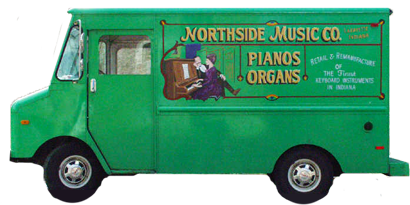 Moving
Northside Music has the experience and expertise to move your organ with the care that it deserves. Our certified moving specialists will baby your precious instrument for you. We can move an instrument across the room, around the house, down the block, or across the country. We have trucks and equipment specially modified to move organs without damaging them.
Service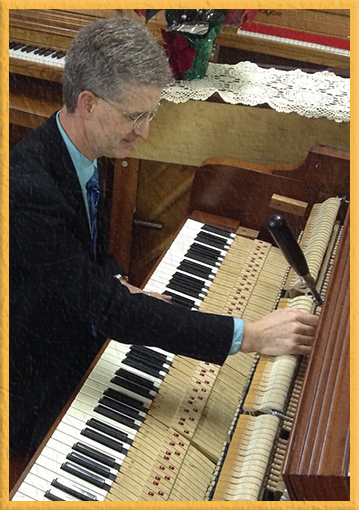 Our service technicians are highly skilled at identifying issues with an instrument. If they can't fix the problem on the spot, they'll give you a detailed estimate for a repair from our full-service electronics shop in Lafayette. Northside Music will make sure you have peace of mind and a quality repair that will keep your instrument singing for years to come. We've seen thousands of instruments over the years, and we don't want you to be without the joy of music for a single day longer than necessary.
Restoration
A major part of Northside's business is in the restoration of organs. This could include an overhaul of the bellows and reeds from an 1850's reed organ, repair of an organ from the 1980's, or a complete rebuild of a pipe organ in a church. Northside does it all.