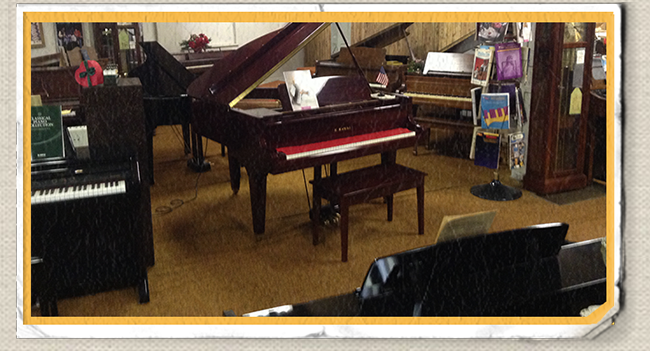 SHOP PIANOS
Purchase
Delivery
Financing
Purchasing an Instrument
Northside Music has over 650 new and used keyboard instruments in stock. These instruments are offered for sale or rent, with name brands such as: Kawai, Galanti, Laughead, Wurlitzer, Kimball, Allen Organ, Young Chang, Story & Clark, Yamaha, Baldwin, Charles Walter, and Steinway. Actually, with this number of pianos, we have lots of brands you've never heard of! We have a piano or organ to fit your tastes and our certified service technicians will work with you to get the instrument you need and can use. Please call us, we LOVE to talk pianos. Unfortunately, with many of our manufacturers, we aren't allowed to list prices online, and some even over the phone. Give us a call and we'll explain, and help you out with your questions.

Many pianos made within the last 100 years were really quality instruments, and with proper care, can be great instruments to play! Pianos are different from computers, TV's and cell phones because they last so long. After forty or fifty years a piano can still have lots of life to it, think your cell phone will?
With over 650 pianos in stock, we have lots of instruments, and lots of brand names; here is a partial list of brands we have in stock:
Acoustic Piano Brands (in stock)
Baldwin
Beckwith
Bond
Brambach
Bush & Gerts
Cable
Cable Nelson
Chickering
Ellington
Emerson
Estey
Gulbransen
Haddorff
Harvard
Hobart Cable
Howard
Ivers & Pond
Kawai
Kimball
Knabe
Kohler & Cambell
Kranich & Bach
Kurtzmann
Gordon Laughead
Mason & Hamlin
Packard
Samick
Sojin
Steinway
Story & Clark
Vose & Sons
Charles Walter
Weber
Wurlitzer
Yamaha
Young Chang
Digital Piano Brands (in stock)
Baldwin
Galileo
Kawai
Korg
Kurzweil
Roland
Technics
Yamaha
List of Player Pianos (installed and available for installation)
PianoDisc
PianoForce
QRS (PNOmation)
Story & Clark
Classic
Baldwin
Gulbransen
Hammond (both Suzuki and original)
Kawai
Lowery
Wersi
Wurlitzer
Yamaha
INSTRUMENT DELIVERY
All new instruments include free delivery in most of Indiana. There would be a fee for going up stairs, or other unusual moving difficulties. We include a manufacturer's quality control check-list, along with repeated tunings and follow up services with our sales. Deliveries are made on custom aluminum body, soft spring heated trucks manned by professionally trained Certified Piano & Organ moving specialists. Used instruments are offered in re-manufactured, over-hauled, and native conditions. In the case of older electronic instruments with parts and design problems, we offer custom circuit and mechanical engineering. With pianos, we offer the marriage of antique cases with new piano frames, actions, or electronic interfaces, as desired. Our shop specializes in custom work, so that we can efficiently produce these alternatives.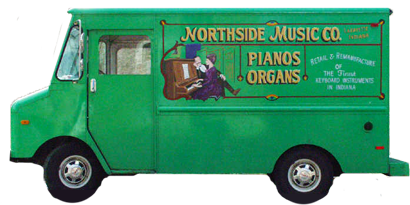 Please call us (765-423-2323) or stop in one of our showrooms for more information; we can provide more details and a quote. When you call, you will speak with a friendly and knowledgeable employee, you never get an automated message, and we try to give every call individual time. If our phone is busy, we're talking (and talking), please call us back! We always try to make time for our customers.
FINANCING THE PURCHASE OF AN INSTRUMENT
Northside Music Co. helps customers purchase their heirloom pianos, organs, and keyboards directly, we don't sell your contract to someone in Texas (or Indonesia). We offer rates that are comperable to consumer loans from the bank. Individual rates and plans are available to fit your situation. While our in-house system is competitive, it is usually not able to outperform a loan secured by mortgage financing, with the rates what they have been for several years.
For additional details, please call us at (765) 423-2323
We would be thrilled to make your dream of owning a quality instrument a reality sooner, with the help of financing, rather than later.